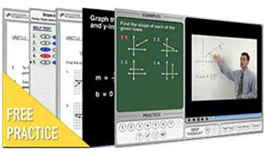 Prepare for the Praxis with a teacher.
Get the teacher certification you need.

Purplemath partners with MathHelp.com to deliver complete Praxis math test prep courses covering Praxis 1, Core, 5003/5033, Elementary, Middle Grade 5169, and Middle Grades 5146. Over the years, we've helped thousands of teachers get the certification they need; and we've we received hundreds of testimonials from teachers who've used our Praxis math courses, such as the ones shown below.
"I needed this to pass the Praxis 2 Middle School Mathematics and this was the most helpful program for me. It helped me gain 24 more points on my second exam which resulted in my passing score. Thank you so much for being so helpful and not expensive at all. I will be recommending your site to anyone whom I think needs it. Thank you again!" – Nicky
"THIS WEBSITE IS AMAZING! I was skeptical at first, but THIS is the reason why I passed my Praxis math." – Alyssa

"I have passed my Praxis Core in math. This website was EXTREMELY helpful. I could not have passed this test without it. I went from failing by 15 points to passing it by 26. Thank you so much for this awesom website." – Heather
"Passed my math Praxis...thank you so much for this site." – Tonda
"I used this website to prepare for my Praxis 1 exam, which I took earlier today. With your assistance, I passed the math portion of the test with flying colors! I thank you very much, as your website has been extremely helpful in preparing me for the exam!" – Dale
"Thank you very much. This website helped me pass Praxis 1 Math!" – Chuck