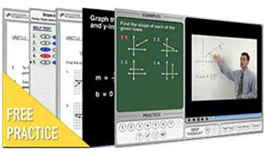 Prepare for the PERT with a teacher.
Place out of remedial college math.

Purplemath partners with MathHelp.com to deliver a complete PERT math test prep course with a teacher. We've helped thousands of students place out of remedial math and hit the ground running as they begin their college careers. Every year, we receive hundreds of testimonials from our PERT math students, such as the ones shown below.
"I was preparing for the PERT. Math Help was great and for me personally a better solution then a tutor. I placed into the math 117A course which at Montgomery college fulfills the general education requirement, so I am happy." - Miriam
"Used to brush up my skills for the PERT test. I did well on the exam." – Kim

"I tested out of all the basic math classes on my college assessment exam, and now I can take the statistic class and complete my degree. Your program was a key factor in my preparation." – Alton
"It was very helpful! I was using it as a refresher from my high school years to prepare for the PERT college placement test. I passed the test!" – Michaela
"I successfully completed the PERT math placement exam and tested higher than I needed. I will not need to take any college math classes! Thank you!" – Dirk
"I passed the PERT! Thank you so much for this website. I no longer have to take two remedial classes." – Paul
"You were a huge help last year for my PERT college placement test. I was able to score high enough on math that I didn't have to take any courses. That was after a 14 year absence from school. Thank you!" – Amanda
"I used it to prepare for the PERT math test. I passed and it helped a bunch. I'll definitely use again if i need help in the future.:)" – Lynne
"I was preparing for the PERT math placement test and I have passed it. You helped me to accomplish my goal. I enjoyed learning math with your web site!" – Angie
"I needed this as a refresher to take the PERT test and took it and got a great score from it. So thank you for helping." – Jay
"Used your PERT math course to test into the class I needed. It worked! Thank you very much!" – Alex
"I passed my PERT exam because of this program. Thanks." – Sara
"I needed it to study for the PERT placement test. It is a very useful tool and I am very grateful." – Seth
"I completed the PERT test I needed to pass. I was able to test out of remedial math and not have to take it. Thank you so much." – Chris
"I was able to test into a college algebra class thanks to your PERT math lessons! So grateful! Thanks again!" – Jess
"I used it to pass the PERT placement test. I passed!" - Morris
"Used this site to study for the PERT. It was successful. Thanks!" – Lily