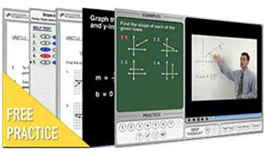 Prepare for the CBEST with a teacher.
Get the teacher certification you need.

Purplemath partners with MathHelp.com to deliver a complete CBEST math test prep course. We've helped thousands of teachers get the certification they need; and we've we received hundreds of testimonials from teachers who've used our CBEST math course, such as the ones shown below.
"I completed my CBEST test and passed thanks to this website. I scored a 30 the first time around, and thanks to your website scored a 56 today and passed! Thank you." – Adam
"I completed the Math section of the CBEST test and I passed! I thank everyone at Mathhelp.com; I know I wouldn't have made it if not for everything Mathhelp provides. It is truly an amazing program and a total Godsend for me! Thank you for everything!" – Cassie

"Your program is amazing. I used your program for 3 weeks and passed the CBEST exam after not having taken a math class in over 17 years. Thank you!!!" – Robert
"This was a fantastic help! In fact because of you I passed the CBEST!!!! I will use you again as my children get into harder math!! THANKS." – Emmanuel
"I passed the CBEST! Thanks for your help." – Bob
"Completed CBEST testing. Passed and thank you!" – Trancito
"I have passed the CBEST Math test. Thank you very much for this website." – Bo
"I enrolled to study for the CBEST math. Thank you! This site is wonderful." – Eric
"Completed my CBEST. This was a great website!" – Charlie
"I completed and passed my CBEST. Thanks for the great support tool!" – Marty
"Used Math Help to prepare for the CBEST and finally passed." – Selena