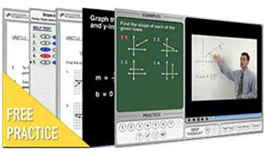 Prepare for the ACT with a teacher.
Get the score you need for college.

Purplemath partners with MathHelp.com to deliver a complete ACT math test prep course. We've helped thousands of students get the score they need to get into college or place out of remedial math; and we've we received hundreds of testimonials from students who've used our ACT math course, such as the ones shown below.
"Our son was using this to prepare for his ACT test. We are very thankful that we found your program. It was a tremendout help for him and I have recommended it to others. Thank you." – Justin
"Needed the site for help preparing for my ACT math. I got my scores back and I do not need to retake the ACTs. Fabulous site!" – EJ

"The service was a great help for my son. He has finished with his ACT math prep and has done well on the test." – Portola
"It was great for studying for my ACT. I passed." – Alicia
"I love the program for my daughter who is prepping for the ACT math!" – Scott
"I plan to take the ACT exam later in the semester. This site is awesome." – Theo
"Finished prepping and took the ACT. I was very satisfied with the product." – Brendan
"My ACT is this weekend. MATHhelp has been a great help to me. I am returning to school after almost 29 years." – Mary
"My daughter just took her ACT. We both loved your site. Thank you." – Emily
"I needed to study for my ACT math test, and I did. This site always helps me alot!" – Matt