There's an interesting talk and discussion (in the comments) over on TED:
http://www.ted.com/talks/conrad_wolfram ... uters.html
The speaker's thesis is that math education boils down to the following 4 steps: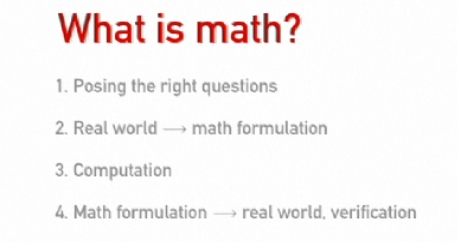 He posits that our existing math education spends far too much time on step #3 at the expense of the other steps. Indeed, he argues that computers can handle step #3 just fine and given that step is the most boring and tedious part of learning math it's no wonder we struggle to get students excited about the subject.
This line of thinking accords with my own observation over the last several months as I've attempted to remedy my lack of math education (I'm an adult, 20 yrs post college). Specifically, in parallel with learning Algebra and Pre-Calculus, I've discovered tools like Maple, MatLab and Mathematica. These tools seem to be to Algebra, Trig and Calculus what a calculator is to basic math.
Which makes me wonder if it's worth my while drilling myself on the computation and calculation (by hand)? Or rather should I invest just enough effort to understand the underlying concept and then move on(?)
Would love to hear the community's thoughts on this topic, esp those with advanced math backgrounds.
Thanks in advance,
mb